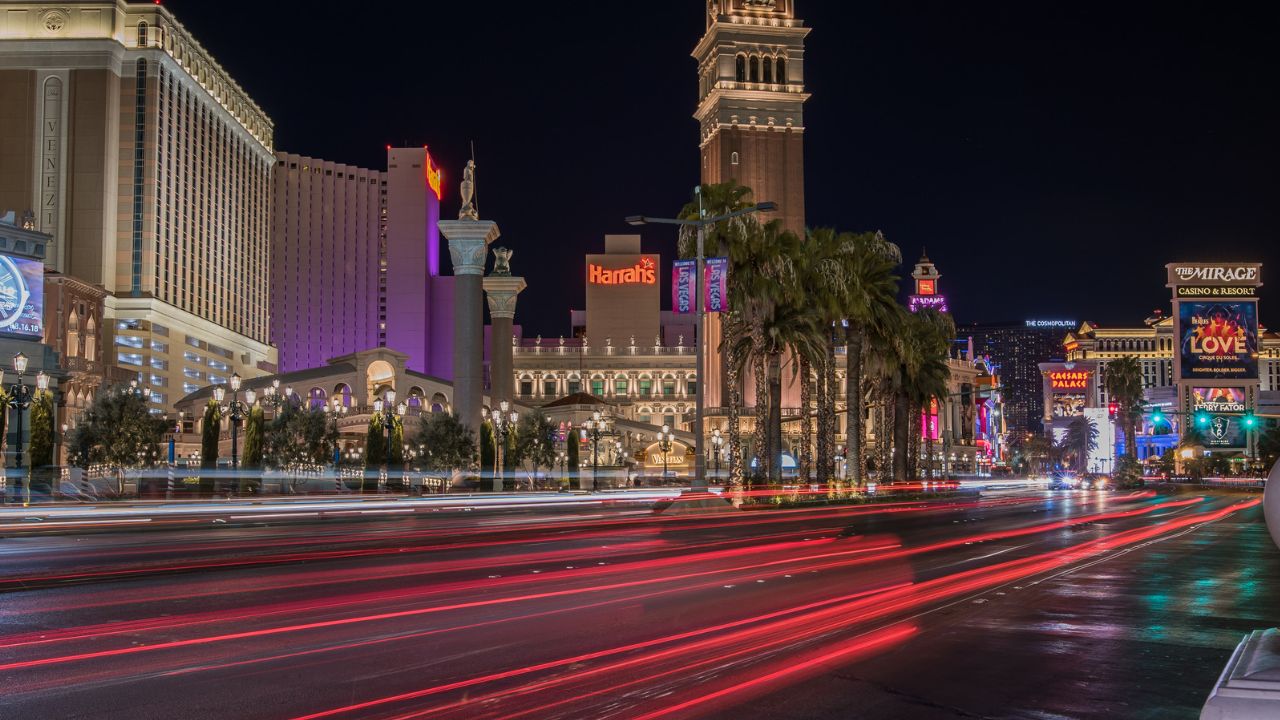 October was a dangerous month on Las Vegas roadways, with car crashes killing nearly half a dozen people and seriously injuring even more. From a street racing contest that turned deadly to a driver that fled two separate accidents before being apprehended, factors like impairment, excess speed, and reckless driving continue to cause danger on Las Vegas roads.
And because the Las Vegas Metropolitan Police Department is only required to report deaths that occur within 30 days of a crash, not all accident-related deaths show up in official statistics. Below is a snapshot of some of the most serious crashes that occurred in Las Vegas during October 2022.
76-Year-Old Woman Dies Four Weeks After Crash
On August 29, 2022, a three-vehicle collision in East Las Vegas sent a 76-year-old woman to University Medical Center for treatment, where she died 32 days later.
The collision occurred near South Lamb Boulevard and East Colorado Avenue at around 7:30 a.m. A 2002 Dodge Neon turned left into a private drive on South Lamb Boulevard, blocking the path of a 2015 Toyota Corolla and causing it to strike a 1995 Toyota T100 pickup that was also parked in the private drive. The Dodge's driver was critically injured in the accident, and she succumbed to her injuries on September 30.
Because this woman's death occurred 32 days after the accident, it won't be counted as a fatality—the Las Vegas Metropolitan Police Department is only required to report deaths that occur within 30 days of a crash.
15-Year-Old Bicyclist Critically Injured in October 3 Crash
At around 5:42 a.m. on a Monday morning, a 15-year-old bicyclist was struck at the intersection of West Rochelle Avenue and Cimarron Road. A white 2017 Ford Escape was traveling south on Cimarron Road when the bicyclist entered the vehicle's path from Rochelle Avenue. The resulting collision sent the bicyclist to University Medical Center's trauma unit with critical injuries. The Ford driver did not show any signs of impairment and cooperated with police at the scene.
Police SUV Involved in Monday Morning Crash
Just before 10:00 a.m. on Monday, October 3, a Las Vegas Metropolitan Police Department SUV crashed into another car near Eastern and Harmon. Medics were called to the scene for both the LVMPD officer and the other driver, though no serious injuries were sustained. This crash is still being investigated.
Driver Strikes and Kills Man in Wheelchair in Northwest Las Vegas
Sadly, the crash that critically injured the teen bicyclist wasn't Las Vegas's only serious Monday morning accident. At around 11:19 a.m., a vehicle struck a man in a wheelchair near West Cheyenne Avenue and Rowland Street. After being transported to University Medical Center, the victim passed away. The driver remained at the scene and cooperated with investigators, and the crash remains under investigation. No charges have been filed.
No Injuries Reported in Daycare Car Crash
Though parents worry about many things, few worry about a car crashing into their child's daycare center. But on Wednesday, October 5, that's exactly what happened to one group of Las Vegas parents when a car crashed into a daycare center at the strip mall off Rainbow Boulevard and Flamingo. Although 911 quickly sent out a medical response team, it took the Las Vegas Metropolitan Police Department nearly four hours to respond to the call, and the driver was not detained. Fortunately, no injuries were reported as a result of this crash.
Las Vegas Man Faces Charges After Pedestrian and Hit-and-Run Crashes
At around 7:45 p.m. on Wednesday, October 5, the driver of a 2022 Dodge Durango left the scene of a crash near Jones Boulevard and Smoke Ranch Road. The crash victim told police they saw the driver throw a bottle of alcohol out of the vehicle as he was driving away. The hit-and-run driver, later identified as Richard Bobo, was found parked at a nearby business.
When police examined Bobo's vehicle, they discovered the passenger side had two destroyed tires, while the front of the Durango had been damaged in a way that indicated it had recently struck a pedestrian. Further investigation revealed that Bobo had indeed struck a pedestrian—whose missing Airpod was lodged between the Durango's hood and windshield. Bobo was arrested on charges of DUI resulting in substantial bodily harm and taken to the Clark County Detention Center.
Las Vegas Woman Charged After Deadly DUI Crash
An October 7 East Valley crash left a motorcyclist dead and a Las Vegas driver facing charges of DUI, reckless driving resulting in death, and hit-and-run. At around 10:00 p.m., 45-year-old Roseanne Joes was traveling north on North Lamb Boulevard when she turned left into the path of a 2006 Suzuki motorcycle, striking and killing its rider—54-year-old Ruben Cuevas.
Although Jones did initially stop at the scene of the accident, her male passenger later told police that Jones became nervous and agitated after seeing Cuevas's body. She stated that she didn't have a driver's license and then got back into her vehicle and left. Another witness saw Jones standing near Cuevas when she yelled "he cut me off, he saw me coming," before she quickly drove away. The passenger remained with Cuevas until the police arrived.
After speaking to the passenger, police officers then visited Jones's home, where they noticed that her Dodge Caravan had fresh damage to the passenger side. Jones did not answer the door, nor did she answer calls and texts to her cell phone. About 30 minutes after the police first arrived at Jones's home, she called them and told them she was at a store nearby. Police drove to meet her, where she failed several field sobriety tests and was taken into custody.
Subsequent investigation revealed that Jones had a long history of methamphetamine, marijuana, and alcohol abuse, as well as brushes with the law. Jones faces charges of DUI resulting in death, failing to stop at the scene of an accident involving death, and reckless driving resulting in death—all felonies that carry with them a hefty prison sentence if convicted. Jones remains incarcerated in the Clark County Detention Center.
Driver Killed After Striking Light Poles in South Las Vegas Valley
Just before 1:00 a.m. on Monday, October 17, 39-year-old Johnny Clay was killed after he lost control of his white Mercedes while traveling eastbound on Blue Diamond. His vehicle struck multiple light poles as it overturned, ejecting and killing Clay and seriously injuring his passenger, who remains hospitalized in critical condition at University Medical Center. Authorities are still investigating whether impairment contributed to the crash, though they've already cited excess speed as a factor.
Street Racing Leads to Crash in West Las Vegas Valley
The Las Vegas Metropolitan Police continue investigating a street racing crash that led to a power outage and knocked over a bus stop. At around 9 p.m. on Monday, October 17, the LVMPD began receiving multiple 911 reports in which callers indicated that there were as many as seven vehicles that had been damaged from a street racing crash near Flamingo Road and Fort Apache Road.
When officers arrived at the scene, they discovered vehicle debris strewn over a quarter-mile section of road, along with three vehicles that had sustained major damage. Businesses in the area lost power for hours when one vehicle struck a power station, and the crash sent one person to the hospital.
The subsequent investigation determined that a Corvette C8 and a Toyota Supra were traveling at more than 100 miles per hour before both vehicles ran a red light and crashed. One driver, 25-year-old Joshua Daya, was arrested and charged with reckless driving and participating in a speed contest.
Motorcyclist Killed in Saturday Afternoon Crash
A motorcyclist was killed after being struck by a car at around 5:00 p.m. on Saturday, October 22. The accident occurred at West Craig Road and Bravita Drive intersection when a Toyota Prius turned in front of the motorcycle. This crash is still being investigated by the North Las Vegas Police Department.
Single-Vehicle Accident Kills 1
Just after noon on October 28, a Jeep left the roadway near North Aliante Parkway and West Corvine Drive, striking a tree and critically injuring the driver. The driver was transported to a local hospital, where she passed away. Investigators from the North Las Vegas Police Department indicated that the accident is still being investigated but impairment is believed to be a factor.
At Hale Injury Law, we can help you with your car accident case, contact us here to get started.