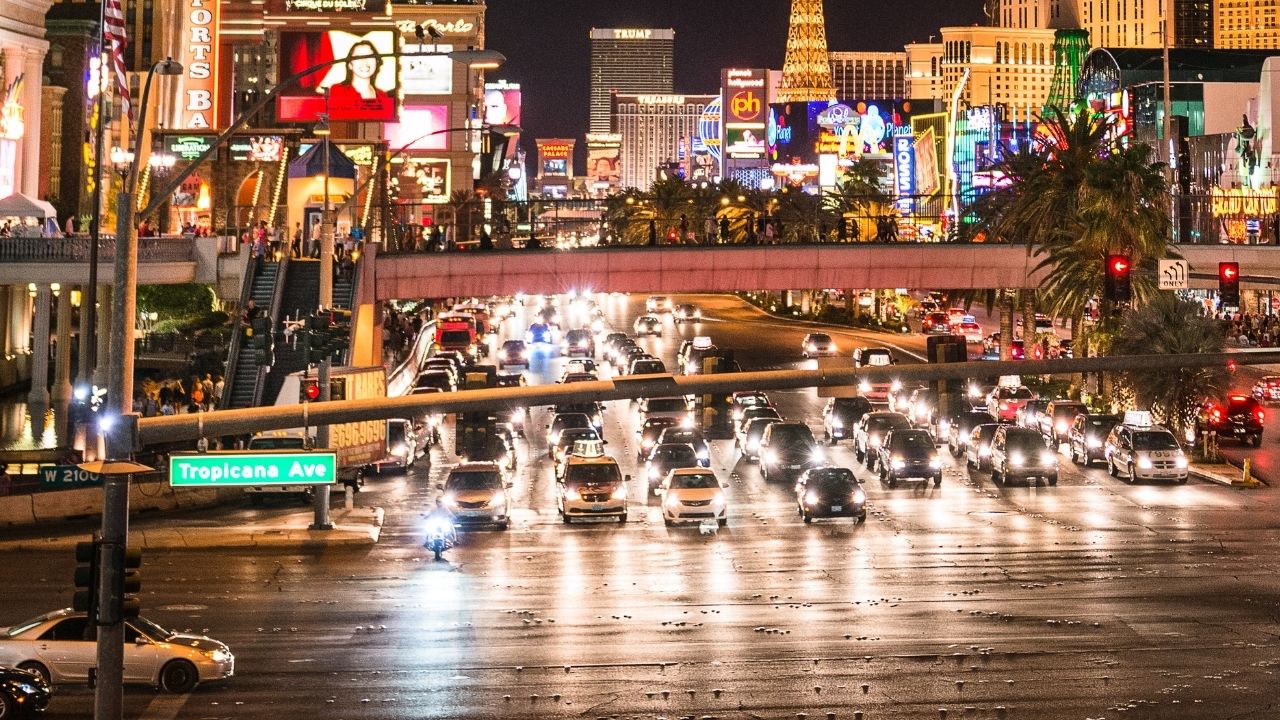 Just a few days into November, Las Vegas Raiders wide receiver WR Henry Ruggs III was arrested for DUI resulting in death following a fiery crash between his Corvette C8 Stingray and a Toyota Rav-4. But sadly, this headline-generating crash wasn't even close to being the only fatal auto accident in Las Vegas for the month; car crashes are becoming so common that Clark County government officials are considering limiting the rental of some luxury vehicles. Below are some of the most serious crashes suffered by Las Vegas residents in November 2021.
Toddler Injured in Hit-and-Run Crash
On Halloween night, a 3-year-old was critically injured after being struck by a white van on Doolittle Street near Lake Mead Boulevard and Martin Luther King Boulevard. Though the toddler was seriously hurt, she is expected to survive her injuries. Police are still searching for the person responsible for this hit-and-run crash.
Ruggs's Corvette Rear-Ends Victim at 120+ Miles Per Hour
During the early morning hours of Tuesday, November 2, at the intersection of Rainbow Boulevard and Spring Valley Parkway, Las Vegas Raiders wide receiver Henry Ruggs crashed his Corvette into the back of a Rav-4 at more than 120 miles per hour. Ruggs had initially been traveling 156 miles per hour (with a blood alcohol content more than double the legal limit) before he struck the rear of the Rav-4, causing it to burst into flames that killed its 23-year-old driver (and her dog). The crash also seriously injured Ruggs's own 22-year-old girlfriend.
Ruggs was detained at the scene due to signs of impairment. He was then taken to University Medical Center to be treated for moderate injuries; the following day, he appeared in a Las Vegas courtroom to be arraigned on felony charges of DUI resulting in death and reckless driving. Prosecutors state that they haven't ruled out charges related to Ruggs's girlfriend's injuries and weapons charges.
Ruggs was released on $150,000 bail with strict conditions, including the surrender of his driver's license and passport, home detention with electronic monitoring, and four daily alcohol tests. However, he missed one of his scheduled alcohol tests on November 17 and was ordered back to court.
Las Vegas Metro Police Officer Charged With DUI
On November 3, a Las Vegas Metropolitan police officer was arrested and charged with DUI, failure to stop at the scene of an accident involving damage, and failure to obey a red light. This accident occurred at the intersection of Silverado Ranch Boulevard and Bermuda Road—and though it was only 8:00 a.m., the officer involved in the crash confessed to investigators that he had been drinking vodka before the accident, he was also taking prescription medication, and the accident was his fault. The officer failed a field sobriety test and was assigned to modified duty with pay pending charges.
Pedestrian Killed by School Bus on November 4
On the afternoon of Thursday, November 4, a 65-year-old pedestrian was struck by a school bus and killed as she was crossing Warnock Road at Desert Inn Road. The female victim was crossing in front of a stopped school bus when it began to move, knocking her to the ground and running over her.
Motorcycle Crash Kills 26-Year-Old
Another fatal crash occurred on November 4 at around 3:00 p.m., when a Dodge Ram 1500 struck a motorcycle, killing its rider. This accident took place at the intersection of Vegas and Peter Buol Drives, close to Martin Luther King Boulevard. As the Ram was traveling west on Vegas Drive, it collided with the motorcycle in the intersection, throwing the rider into the roadway. After being transported to University Medical Center, the 26-year-old cyclist was pronounced dead.
Officials announced that this was the 121st traffic-related fatality in Las Vegas for 2021, marking a significant increase in the number of traffic fatalities as compared to recent years.
Spring Valley Crash Claims One Life
On the afternoon of November 6, a 2021 Tesla Model Y carrying four passengers was involved in a single-vehicle crash near the intersection of Arby Avenue and Babiana Street. While approaching the intersection, the Tesla went airborne and spun onto the roadway, ejecting a 30-year-old rear passenger who passed away at the scene due to blunt-force trauma. Another 24-year-old passenger was transported to University Medical Center with serious injuries.
The 25-year-old Tesla driver was arrested and charged with felony DUI and reckless driving. This passenger's death marks the 123rd traffic-related fatality in Las Vegas for 2021.
Driver Charged With Murder After Motorcyclist's Death
At around 8:43 a.m. on November 7, police responded to a crash at Washington Avenue and Michael Way involving a pickup truck and a motorcycle. The 24-year-old motorcyclist passed away from his injuries at University Medical Center. Meanwhile, the 32-year-old pickup truck driver was charged with murder after investigators learned that he deliberately struck the victim with his vehicle after learning the victim had an affair with the driver's wife.
Single-Car Accident Kills Driver on November 11
A Buick Lacrosse driver was killed after a Thursday night accident in which his vehicle struck multiple concrete barriers on the U.S. 95 northbound on-ramp at Rancho Drive. Officials hadn't figured out why the Lacrosse left the traveling lane, but its driver passed away at the hospital shortly after the accident.
Concrete Truck Crash Kills Ford Fiesta Driver
At around 6:15 a.m. on Friday, November 12, the female driver of a Ford Fiesta was killed after striking the back of a stopped concrete truck on the Las Vegas Beltway, just east of Sky Pointe Drive. As the concrete truck was in the far right lane of the Beltway after breaking down, the Fiesta driver—who didn't see the truck or attempt to stop—struck the back of the truck, killing herself and critically injuring a passenger.
Two Lanes of I-515 Shut Down After Multi-Vehicle Crash
Just after rush hour on November 16, at around 7:36 p.m., a multi-vehicle crash on the northbound lanes of I-515 near Eastern Avenue caused hours-long shutdowns of several lanes. Minor injuries were reported, though it was unclear how many vehicles were involved or what caused the accident.
November 16 Crash Kills Moped Driver
Another November 16 accident claimed the life of a moped driver at around 6:39 p.m. Officers responded to a crash at the intersection of East Oakey Boulevard and East Fremont Street, where the rider had sadly already passed away at the scene. No charges have yet been filed as a result of this accident.
Shots Fired Just Before Car Crash
A domestic dispute led to gunshots and a single-vehicle crash in the early morning hours of Wednesday, November 17. As a driver and his passenger got into an argument while traveling north on Hualapai Way, the driver fired five or six shots out of his moving vehicle. Shortly thereafter, the driver lost control of the vehicle and struck a tree near the road.
A nurse who had been traveling home from work was the first to respond to the accident, stopping to provide first aid. However, while she was rendering aid, the nurse saw a handgun in the vehicle—she then secured it and provided it to the responding officers, who arrested the driver on several serious charges.
DUI Crash Kills Las Vegas Pedestrian
On November 18, one 46-year-old pedestrian was killed and another was injured after being struck by a vehicle near University Center Drive and Twain Avenue. At around 4:39 p.m., Las Vegas Metropolitan Police officers received an emergency call alleging that a driver engaged in a hit-and-run of a pedestrian. The pedestrian struck by the vehicle was killed, while another 46-year-old pedestrian suffered minor injuries.
The 44-year-old Chevrolet Suburban driver was later identified and arrested after refusing field sobriety tests. The driver also lacked valid ID and now faces serious charges of DUI, failure to give information to parties at a vehicle accident, driving without a license, failure to maintain lane, and owning or possessing a gun by a prohibited person.
DUI Charges for Driver Who Collided With Dotty's Casino
In the early morning hours of Friday, November 19, a driver crashed his pickup truck into the Dotty's Casino on Las Vegas Boulevard, near Carey Avenue. Fortunately, though there were patrons inside the casino when the accident occurred, no one was injured. The 44-year-old driver was arrested and charged with DUI, driving without a license, lacking proof of insurance, operating a vehicle without registration, and failing to maintain a lane. The casino was briefly closed while its broken window was replaced.
Lee's Discount Liquor CEO Killed on November 19
A second November 19 car crash claimed the life of 53-year-old Kenny Lee, the CEO of Lee's Discount Liquor. Just before 10:30 a.m., as Lee was traveling south on U.S. 93 between Ely and West Wendover, the van crossed the center line and collided with a truck that was headed north. Lee, who was not wearing a seat belt, was thrown from the vehicle and pronounced dead at the scene.