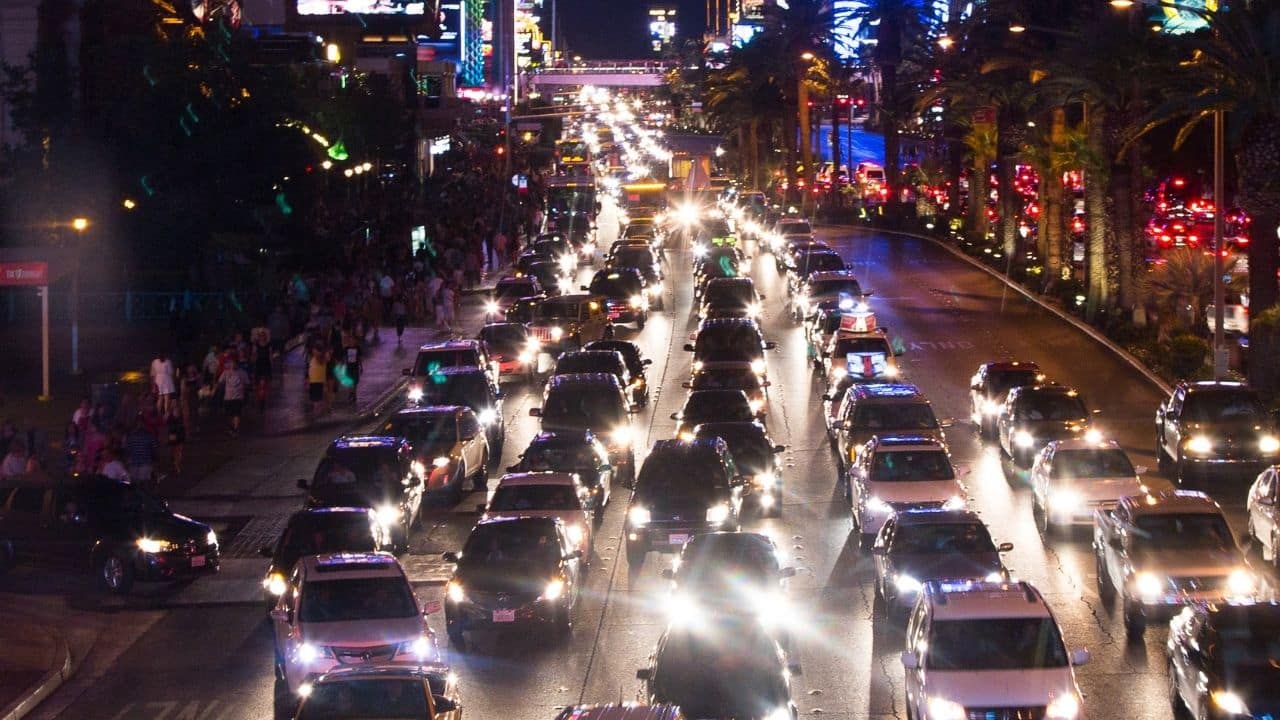 Las Vegas reached a sad milestone this month—as of March 18, at least 32 people have been killed in crashes within the Las Vegas Metropolitan Police (LVMP)'s jurisdiction. Six of these deaths occurred over a three-day period from March 13 to 15, with three fatal crashes taking place in a three-hour period on Tuesday, March 15. Police and legislators have begun to discuss ways to make the roads safer, as the number of traffic accidents (and the number of accidents resulting in serious injuries or death) continues to increase in 2022. Below, we discuss some of the most serious crashes that took place in Las Vegas this month.
Autopsy Results in January Crash that Killed 9 Reveal Driver was High on PCP and Cocaine
A tragic crash in late January took the lives of nine people, including four children, when a Dodge Challenger ran a red light and collided with the passenger side of a Toyota minivan. This crash sent the minivan careening into another vehicle, and the minivan's occupants were all pronounced dead at the scene.
Though crash reconstructionists knew at the time that the Challenger was traveling in excess of 100 miles per hour when it collided with the van, it was only this month that autopsy results revealed the driver had alcohol, cocaine, and PCP in his system. PCP, in particular, can cause mind-altering effects including hallucinations—and combining this dangerous drug with alcohol and cocaine before getting behind the wheel is a recipe for tragedy.
The National Transportation Safety Board (NTSB) is still investigating this crash, with the North Las Vegas Police Department conducting a parallel safety investigation. Both organizations are determined to understand what changes they can recommend to prevent a crash like this from ever happening again.
Rear-End Crash Kills Henderson Driver
Read-end crashes tend to be written off as fender-benders; however, they can sometimes be deadly, especially when high speeds are involved. At around 4:30 a.m. on Monday, March 7, a Lexus that was traveling westbound on St. Rose Parkway struck a Jeep that was stopped at a red traffic signal at the intersection of St. Rose and Eastern Avenue. The collision caused the Jeep's fuel tank to catch fire, igniting both vehicles and ultimately killing the Jeep's driver. Although the Lexus driver was not deemed to be impaired, police have reported that speed was a factor in the collision and the Lexus driver will likely face criminal charges.
Wrong-Way Driver Crashes Into Semi-Trailer on I-15
Shortly before 5:00 a.m. on Friday, March 11, a wrong-way driver crashed into a semi-trailer on I-15, near mile marker 12. This accident closed the interstate for more than 5 hours. The wrong-way driver, who was traveling southbound in a blue Ford F-150 on I-15 northbound, struck a semi-trailer head-on, causing it to overturn, blocking all three lanes, and burst into flames. Both the F-150 driver and the semi-driver were taken to University Medical Center with non-life-threatening injuries, and police suspect that the F-150 driver's impairment caused the crash.
Spring Valley Hit-and-Run Crash Causes Power Outage
In the early morning hours of Sunday, March 13, a vehicle struck and knocked down a power pole in Spring Valley, near Torrey Pines Drive and Oakey Boulevard. The driver then quickly left the scene, forcing crews to close the surrounding area and remove the pole and live power lines from the roadway. Most of those affected by the power outage had their power restored by around 7:00 a.m. Sunday. This driver remains on the loose.
Sadly, this wasn't the only serious crash on Sunday. At around 5:30 p.m., two people were killed in a crash involving three motorcycles and an SUV. This crash took place near Cheyenne Avenue and Mary Dee Avenue in North Las Vegas, minutes from I-15. Witnesses report that two of the motorcyclists crossed over traffic, where one collided with an SUV and another struck a sign pole in the median. These motorcyclists were both killed, while a third motorcyclist and the SUV driver were transported to University Medical Center with minor injuries. This crash took place just blocks from the deadly January crash that killed nine people, including four children.
Another motorcyclist sustained serious injuries in a crash at the intersection of Linn Lane and Owens Avenue at around 7:30 p.m. Sunday. As a Honda was turning left at the intersection, it crossed the motorcyclist's path and struck the rider, causing life-threatening injuries. The Honda driver passed field sobriety tests, and alcohol is not considered to be a factor in the crash.
Series of Deadly Monday Night Crashes Prompts Law Enforcement Warnings
Law enforcement officers urged drivers to slow down and pay attention after responding to three fatal crashes (and another serious crash) that were reported within a three-hour period on Monday, March 14.
The first accident was reported at around 3:20 p.m., where a speeding driver who attempted to turn left from Rampart Boulevard to Lake Mead Boulevard struck a median and light poles. The driver was transported to the hospital, where he succumbed to his injuries.
At around 4:05 p.m., a motorcyclist was killed after crashing into an SUV on Camino Al Norte in North Las Vegas. Police have reported that the crash occurred as the SUV was pulling out of a post office parking lot.
Just 45 minutes later, another person was killed after losing control of his pickup truck on Summerlin Parkway. When the driver swerved to avoid crashing into slowed or stopped traffic, he overcorrected and his truck rolled over. The driver, who was not wearing a seatbelt, was ejected from the vehicle and killed on impact.
And around 5:32 p.m., a cyclist riding on Boulder Highway near Sunset in Henderson was struck by a car and hospitalized in critical condition. Police indicate that neither speed nor impairment played a role, though this crash (and the others earlier that day) continue to be investigated.
March 15 Crash Marks Fourth Las Vegas Traffic Fatality in Two Days
At around 7:47 p.m. on Tuesday, March 15, two vehicles were involved in a fatal crash near the intersection of Decatur Boulevard and Gowan Road. One driver was pronounced dead at the scene after his car was launched 125 feet, while the other driver fled on foot and was later arrested and booked into jail on preliminary charges of DUI resulting in death.
Decatur Boulevard was closed from Gowan Road down to Cheyenne Avenue while traffic investigators secured and cleaned up the scene. This crash came the day after three of the Las Vegas valley's four traffic investigation teams were sent out to investigate several crashes that occurred within a three-hour period.
On March 17, the hit-and-run driver, identified as Pedro Ocampo, was released from custody after a hearing at which no criminal complaint was filed. A status check has been scheduled for June 16, 2022.
Speeding Causes Death of 74-Year-Old Las Vegas Woman
At around 2:00 p.m. on Wednesday, March 16, a 74-year-old woman was killed in a head-on collision. This accident occurred in the 3800 block of South Jones Boulevard when a speeding Chevy Cruz (traveling southbound) veered into the oncoming lane and struck a Hyundai. The Hyundai driver was killed on impact, while two others involved in the accident sustained only minor injuries.
March 18 Motorcycle Crash Kills Rider
At around 4:12 p.m. on Friday, March 18, a 39-year-old motorcycle rider was killed after she hit a curb on Vegas Valley Drive, throwing her from the bike into a power box. The rider was transported to Sunrise Hospital, where she was pronounced dead. This rider's death was the 32nd traffic-related fatality in the Las Vegas metropolitan area in 2022.
Henderson Police Officer Hospitalized in Motorcycle Crash
On Tuesday, March 22, a Henderson Police Department (HPD) motorcycle officer was struck by a vehicle near the intersection of West Warm Springs Road and Marks Street. Fortunately, the officer suffered non-life-threatening injuries. Little information on this crash is available, other than a report that neither speed nor impairment are considered factors in the accident. The intersection of West Warm Springs and Marks Street was shut down for several hours while police investigated.
Many of the most serious traffic accidents in March involved motorcycle riders. As the weather gets warmer, both motorcyclists and vehicle drivers should commit to obeying the speed limit, paying attention to one's surroundings, and avoiding distractions. Any collision between a large vehicle and a motorcycle can pose a severe risk of harm or even death.