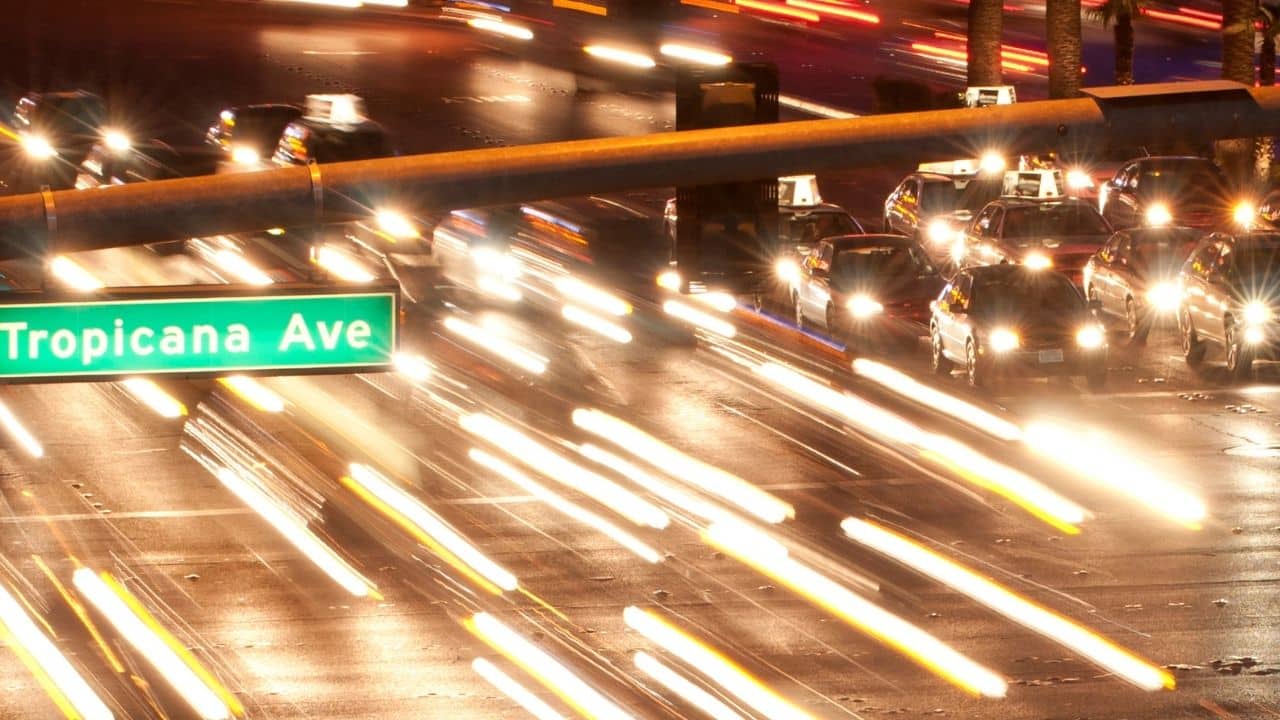 June was sadly a busy month for Las Vegas's police and first responders, with more than 10 people killed in car crashes this month. Many of these crashes have common themes—impairment, excess speed, and driver inattention—and during the hectic summer months, it's more important than ever to pay close attention when you're behind the wheel. Below, we highlight some of the most serious car accidents reported in the Las Vegas metropolitan area for June 2022.
Charges Filed in Street-Racing Crash that Killed 2
On Tuesday, May 24, the driver and passenger of a 2012 Chevy Corvette were killed while street racing on Jones Boulevard near Flamingo Road. The Corvette and a Dodge Charger were speeding north on Jones when the Corvette struck the median, hitting a curb, a power pole, and a fence before overturning in a parking lot. The 34-year-old driver, Jason Qahhaar, was transported to UMC, where he passed away; his passenger, 34-year-old Priscila Velasquez, was pronounced dead at the scene.
In early June, the driver of the Dodge Charger, Jovani Monarrez Tavizon, was arrested and charged with reckless driving/speed contest involving death. His next court date is July 13, 2022.
TRENDING: Why You Need An Automobile Accident Lawyer After A Crash
Single-Vehicle Collision With Apartment Building Kills Driver
On May 30, at around 4:00 p.m., an unidentified driver was killed after losing control of his 2022 Chevy Malibu and colliding with the wall of an apartment near Desert Inn Road and Maryland Parkway. Excessive speed was believed to be a factor in the crash, and no one inside the building was injured; however, neighbors were evacuated after a building inspector deemed the home unsound.
Woman Charged with DUI in Crash that Killed Father and Critically Injured 3-Year-Old
At around 4:00 a.m. on June 1, the driver of a 2019 Jeep Grand Cherokee struck another vehicle near Centennial Parkway and Shaumber Road. When police responded to the scene, they discovered 38-year-old Stephen Palmatier had suffered fatal injuries in the crash; his 3-year-old son was transported to UMC in critical condition, while his wife and 6-year-old daughter were also taken to UMC with less severe injuries. The driver of the Jeep had fled, leaving the wrecked vehicle behind.
A subsequent investigation showed that the Jeep had failed to stop at a stop sign, sailing through the intersection at 66 miles per hour, when it struck the Palmatiers' vehicle. The driver was later identified as 38-year-old Lisa Geurino, who appeared "evasive and confused" during questioning about her activities on the night of June 1. A bartender at Jackpot Joanie's, where Guerino had been just before the crash, reported that she left the bar around 4:00 a.m. and had consumed at least five shots of Patron Silver between 2:00 and 4:00 a.m. Guerino has been charged with 8 felonies, including DUI resulting in death and DUI resulting in substantial bodily harm; more charges may come as the investigation into this crash continues.
DISCOVER: What To Do After A Car Accident
21-Year-Old Motorcyclist Killed After Colliding With Car
On Friday, June 3, 21-year-old motorcyclist Noah Macfawn was killed after colliding with a car on Town Center Drive. This collision occurred just after 12:00 p.m., and sections of Town Center remained closed for nearly five hours as police and first responders cleaned up the scene. Witnesses report that the 2020 Yamaha motorcycle was traveling north on Town Center Drive when it struck the front of a Tesla Model 3 that was traveling westbound. The Tesla's 77-year-old driver did not require medical treatment.
It's unclear which driver was at fault, and the accident remains under investigation.
Motorcyclist Killed in Suspected DUI Hit-and-Run
35-year-old Ely resident Morgan Arvizo was killed after colliding with a suspected drunk driver on Saturday, June 4.
At around 7:15 p.m. that evening, bystanders reported a crash on North Rancho Drive and West Turquoise Road, when a pickup truck made a left turn on Rancho and collided with the motorcyclist and another vehicle. EMTs pronounced the motorcyclist dead, and the pickup driver attempted to flee the scene on foot. The driver was apprehended and taken into custody, where he showed signs of impairment; he was later booked into the Clark County Detention Center on preliminary charges of DUI and hit-and-run.
No Signs of Impairment in Crash that Killed Pedestrian
On Tuesday, June 7, a 54-year-old pedestrian was killed after being struck at the intersection of Maryland Parkway and Reno Avenue on the Las Vegas Strip. This accident occurred just before 10:30 p.m., when a Volkswagen Jetta struck a pedestrian who attempted to cross outside a marked crosswalk. The Jetta's driver remained at the scene and showed no signs of impairment.
Impairment Suspected in Red Light Crash
An early-morning collision involving five vehicles recently sent two people to the hospital. At around 3:30 a.m., four vehicles were waiting at a red light at the intersection of Flamingo Road and Jones Boulevard when they were suddenly struck by another car (whose driver was believed to be under the influence of alcohol). Two occupants were sent to the hospital with minor injuries, and police continue to investigate the case.
West Las Vegas Valley Crash Kills 1
At around 11:00 a.m. on Friday, June 10, near W. Charleston Boulevard and Heavenly Hills Court, a 2013 Kia Sportage was traveling eastbound when a 2000 Ford Expedition crossed the center line and struck the Kia head-on. The Kia's 75-year-old driver, Douglas Schoeffler, was pronounced dead at the scene, while the Ford driver was transported to UMC with serious injuries. At the hospital, a blood sample was taken from the Ford driver due to suspected impairment; toxicology results remain pending.
This crash was the fourth fatal crash in the Las Vegas Valley on June 10, and the 70th traffic-related fatality in the Las Vegas Metropolitan Police Department's jurisdiction in 2022.
Passenger Killed in Semi Truck Collision
On the evening of Monday, June 20, one man was killed and another was critically injured after their vehicle collided with a turning semi truck. This accident occurred at the intersection of Alto Avenue and Lamb Boulevard, when a 2003 Ford Escape struck a Kenworth TT semi truck that was turning left onto Alto. The Ford's 25-year-old passenger was pronounced dead at the scene, while the driver, 28-year-old Ahmad Yakub, was transported to UMC with critical injuries. Although the crash is still under investigation, police indicate that Yakub displayed signs of impairment, and he was arrested during his hospitalization.
This death marked the 73rd traffic-related fatality in the LVMPD's jurisdiction for 2022, with this grim milestone coming a mere 10 days after the 70th 2022 auto accident fatality was reported.
Two-Vehicle Crash Kills Las Vegas Resident
On Wednesday, June 22, 43-year-old John Holmes was killed in a two-vehicle crash on Carey Avenue. This crash occurred just before 10:30 p.m., when Holmes's Cadillac struck a semi-trailer that was turning onto Carey near Rancho and Simmons Street. Holmes was pronounced dead at the scene, and police have indicated that excessive speed may have played a role in the crash.
Single-Vehicle Collision on Hualapai Way Kills Driver
At around 3:30 a.m. on June 22, the 35-year-old driver of a 2020 Ford Expedition was killed after her vehicle ran off Hualapai Way, near Charleston Boulevard, and collided with a block wall. Las Vegas resident Samantha Trattler was transported to an area hospital with multiple blunt force injuries and was later pronounced dead. Police announced that alcohol was not a contributing factor in this crash, though they continue to investigate.
DUI Rollover Crash Kills Passenger
At around 10:00 p.m. on Saturday, June 25, 20-year-old Katherine Garcia was killed after the vehicle she was riding in overturned, ejecting her. Witnesses report that a blue Honda was traveling southbound on U.S. 95 when it failed to stay in its lane, rotating counter-clockwise before crashing into the center median and flipping over.
When the car overturned, Garcia was ejected; first responders later pronounced her dead at the scene. The driver, Pierre Oliver, has been arrested and charged with several felonies, including DUI resulting in death. This accident remains under investigation, and additional charges may be filed.
As you can see, there's a common theme among these serious Las Vegas accidents—excessive speed, impairment, and inattention. While not all accidents are preventable, and individuals can be injured in traffic accidents even after taking all precautions, it's crucial to avoid known risk factors like texting while driving, driving while intoxicated, and speeding or street racing.
If you were in a car accident and need an attorney, contact us for help!