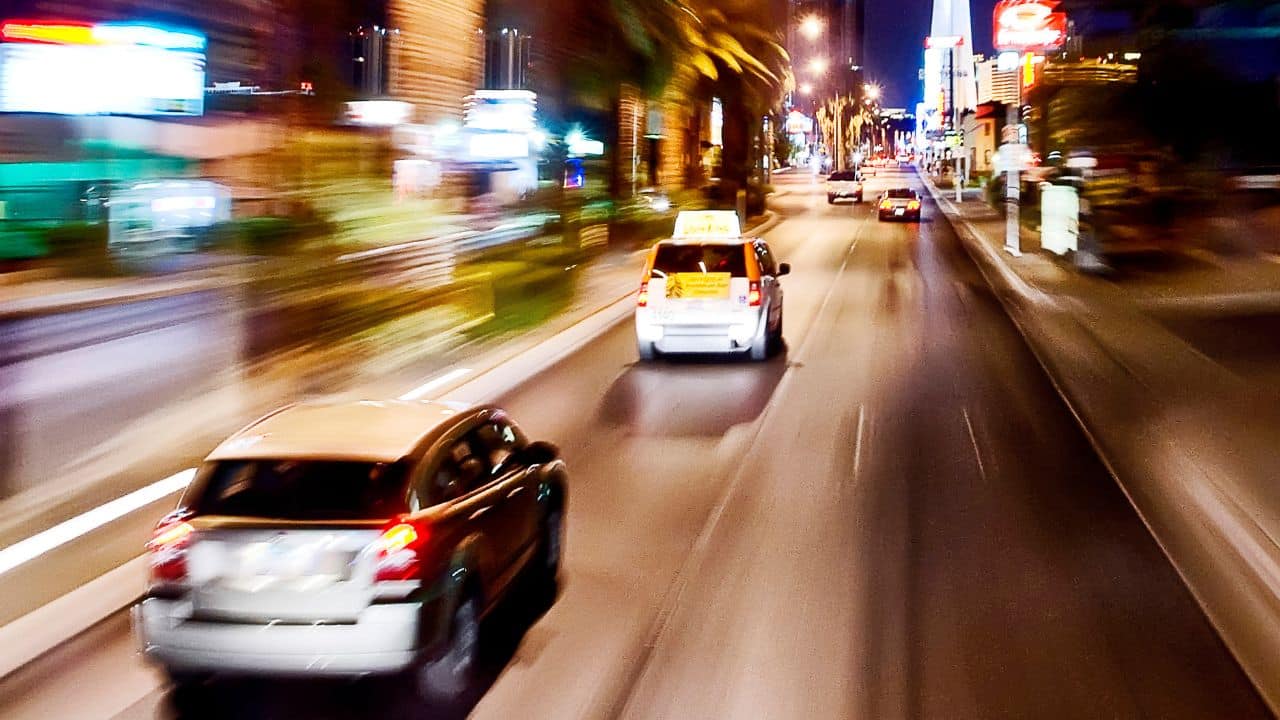 May marked another deadly month for some Las Vegas drivers. Though the total number of lives lost in traffic crashes is down 12 percent from 2021, through the end of May, 99 people were killed in crashes throughout the state—and the majority of these crashes were attributed to either driver impairment or high speed. Slowing down, buckling up, and remaining aware of your surroundings can go a long way toward protecting you if you are involved in a crash. Below, we discuss some of the traffic accidents that occurred in the Las Vegas metro area over the last month.
One Driver Killed in Single-Vehicle Crash
The Nevada Highway Patrol responded to a single-vehicle crash on I-15, near Saint Rose Parkway, just after 6:30 a.m. on Saturday, April 23. As a Dodge Ram traveled north on I-15, it veered into the dirt shoulder. The driver then overcorrected and flipped the truck. He wasn't wearing a seatbelt and unfortunately passed away at the scene as a result of his serious injuries. Officials noted that this crash marks the 18th fatality on a Southern Nevada highway in 2022. 
High-Speed Rear-End Accident Kills 2
Just after midnight on April 29, a speeding white Honda Accord was traveling at high speeds on I-15, near Silverado Ranch Boulevard, when it collided with a semi-truck from behind. Twenty-five-year-old Angelo Morales and 32-year-old Marco Sotelo were both killed in the collision. Morales was transported to University Medical Center, where he died from blunt force trauma; Sotelo, who was not wearing a seatbelt, was ejected from the vehicle and died at the scene.
Carjacking Suspect Flees, Crashes, and Runs Away
On the evening of Friday, April 29, US-95 was closed in both directions between Russell and Tropicana after a carjacking suspect caused a crash and then fled on foot. After the Henderson Police Department responded to a request for assistance, they located the stolen vehicle on Highway 95; the driver then evaded police and crashed with another car. As the suspect began to flee on foot, he was struck by another vehicle and transported to a nearby hospital. The highway reopened just before 8:00 p.m.
Henderson Crash Kills 23-Year-Old Motorcyclist
At around 9:40 a.m. on May 2, motorcyclist Maxwell Harris collided with a box truck that was turning left from Stephanie Street onto American Pacific Drive. Harris had entered the intersection against the red light; he was transported to Sunrise Trauma, where he later was pronounced dead. 
Police have reported that speed was a likely factor in the accident. This is the seventh accident-related fatality in Henderson for 2022.
Councilwoman Fiore Found Partially At Fault for Two-Vehicle Crash
Shortly after 9:00 p.m. on Monday, May 2, Las Vegas City Councilwoman Michele Fiore (who is currently running for state treasurer) was involved in a two-vehicle crash. LVMPD reports that Fiore was traveling west on Centennial Parkway, driving her 2020 BMW 5 Series, when she collided with another driver that was heading east in a 2014 Chevy Impala.
The collision occurred as the Impala was turning left into an apartment complex; Fiore's vehicle then crashed into the Impala's passenger side. Fiore was transported to University Medical Center with a concussion and several broken bones, while the Impala driver remained at the scene.
Later, police determined that Fiore shared "some fault" for the crash for failing to maintain a single travel lane. The Impala driver told police that she saw Fiore's car in the right-turn lane and assumed she would be turning; Fiore then changed lanes without signaling. The Impala driver was also cited for failing to yield the right of way.
34-Year-Old Pedestrian Remains in Critical Condition After Accident
At around 8:14 p.m. on Tuesday, May 3, a pedestrian was critically injured when she was struck by a 2013 Dodge Charger while crossing West Charleston Boulevard. The pedestrian was outside a marked crosswalk at the time she was struck, and the driver of the Dodge remained at the scene and showed no signs of impairment. 
Mother's Day Crash Kills 70-Year-Old Las Vegas Resident
Just before 7:00 a.m. on May 8, 2022, the 74-year-old driver of a white Toyota Tundra lost control of his vehicle on southbound I-15, near the Wild Wash Road off-ramp. The truck overturned multiple times before coming to a stop along the north side of the freeway. The critically-injured driver was airlifted to Arrowhead Regional Medical Center; a 70-year-old passenger, Lucio Parada-Becerra, was pronounced dead at the scene. A third passenger, a 35-year-old Tijuana resident, was uninjured.
May 12 Rear-End Collision Kills Driver
Driving while distracted doesn't just mean using a cell phone—something as seemingly harmless as reaching down to grab a drink can result in injury or even death. At around 7:00 a.m. on May 12, LVMPD officers responded to a crash at West Craig Road. Witnesses reported that a 2021 Ram 1500 was traveling east when it approached a 2003 Toyota Tacoma from behind.
As the Ram driver grabbed a drink from the passenger seat of his truck, he took his eyes off the road, causing him to hit the Tacoma from the rear and push it into a large light pole. The Toyota driver was transported to University Medical Center, where he passed away three days later. However, the LVMPD has announced that this driver's death will not be counted as a traffic-related fatality.
Suspected Impaired Driver Pins Man Between Cars, Killing Him
A 55-year-old Las Vegas resident was tragically killed after a fender-bender when a suspected drunk driver pinned him to his own vehicle. On Tuesday, May 17, the man had gotten out of his vehicle to investigate a minor crash near the UNLV campus. While the victim was standing between the two vehicles, 24-year-old Serena Mueller crashed her Toyota Camry the rear of one vehicle, briefly pinning the victim and inflicting severe internal injuries. Mueller, who admitted to police that she took sleeping pills before the crash, was arrested on suspicion of DUI. She has since been charged with five felonies related to the death, including felony DUI resulting in substantial bodily harm.
"America's Got Talent" Artist Léa Kyle Injured in Las Vegas Crash
On May 23, AGT season 16 artist Léa Kyle revealed that she and her boyfriend had been struck by another vehicle in Las Vegas while riding in an Uber. Kyle sustained a crushed lung and three fractured ribs, and was hospitalized for several days before being released to home. Kyle acknowledged that she had been preparing to compete at the World Magic championships in Quebec, but would need to focus on her recovery to get herself in the best possible shape for this competition. 
Single-Vehicle Spring Valley Crash Kills 2
At around 5:16 a.m. on May 24, the Las Vegas Metropolitan Police Department received reports of a high-speed crash involving a 2012 Chevy Corvette. Witnesses reported that the Corvette was heading north on Jones Boulevard, just north of Flamingo Road, at a high rate of speed when it struck the median, hit a curb and a power pole, crashed into a fence, overturned, and came to rest in a parking lot.
The passenger, 34-year-old Priscila Velasquez, was pronounced dead at the scene; the 34-year-old driver, Jasaon Qahhaar, was ejected from the vehicle and later passed away at University Medical Center. This collision also cut power to 31 NV Energy customers' homes and businesses as a result of the damage to the power pole.
DUI Crash Ejects and Kills 2 Passengers, Seriously Injures 2 More
A suspected drunk driver was responsible for a fatal crash on I-15 that killed two of his passengers and sent two others to the trauma unit with severe injuries. According to Nevada State Police, a Toyota Camry transporting five people was traveling north on I-15 when it struck a barrier. Two passengers who were not wearing seatbelts were ejected from the vehicle; both were transported to University Medical Center, where they were later pronounced dead. Two other passengers were transported to UMC Trauma with non-life-threatening injuries. 
The 26-year-old Camry driver, Marik Mcklin, was charged with two counts of DUI resulting in death and one count of DUI resulting in substantial bodily harm. The Charleston section of I-15 was closed for over six hours as crews worked to clean up the scene.
Mother Runs Over 9-Year-Old Son in Tragic Crash
One of the most tragic traffic accidents in May occurred when a nine-year-old boy was struck while jogging next to his mother's Acura RDX on Paveston Lane, near Charleston and Hollywood boulevards. The child, identified as Julian Casino, fell and was struck by the vehicle's rear wheel. He was transported to Sunrise Hospital and was later pronounced dead. Though it's not clear why this child was running outside his mother's vehicle, the mother, Mireya Casino, has not been charged with any crime. She remained at the scene and showed no signs of impairment.
This tragic accident was the 53rd traffic-related fatality in the Las Vegas Metro area so far in 2022.