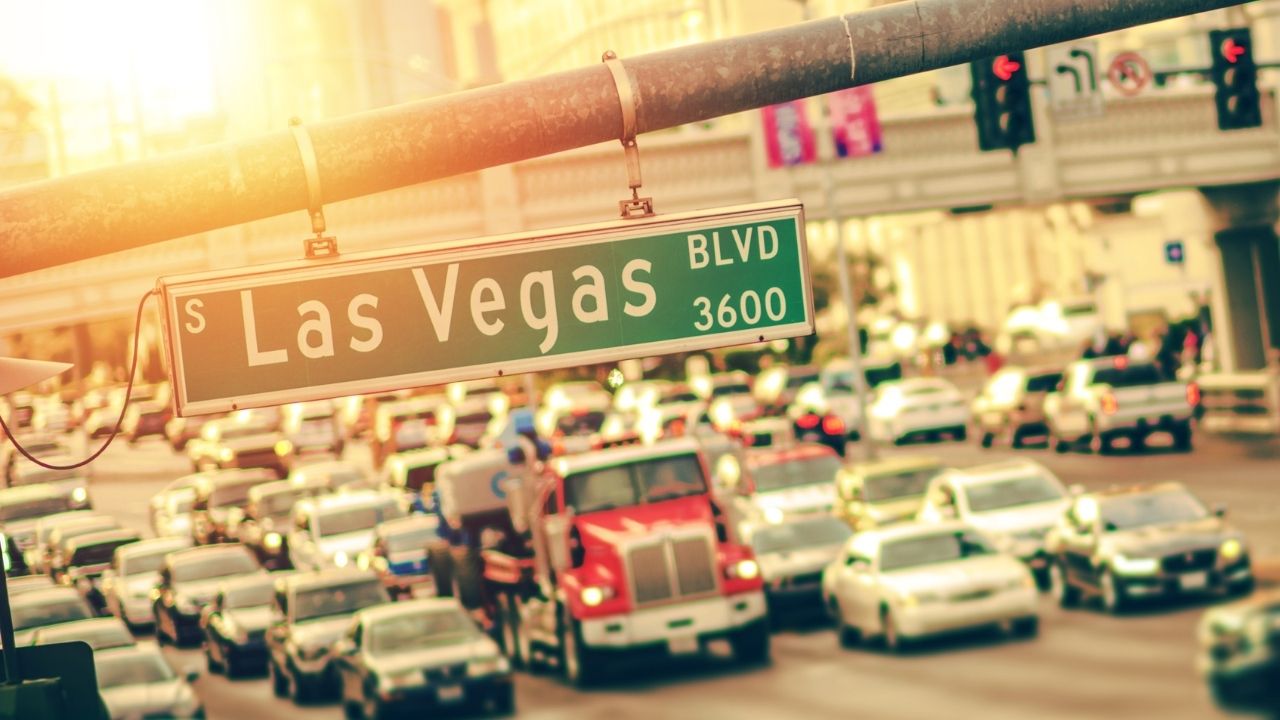 The first 7 months of 2021 were the deadliest in the last 10 years for Las Vegas drivers, passengers, and pedestrians, and unfortunately, the last half of 2021 hasn't shown much improvement. In December, there were more than a dozen major accidents in Las Vegas, with several of them ending in critical or life-threatening injuries or even death. Below are some of the most serious accidents reported in Las Vegas for December 2021.
Teen and Dog Killed in North Las Vegas Crash
On December 3, a teen and his dog were struck by a van and killed at around 5:12 p.m., just before sunset. As the teen was walking across Martin Luther King Boulevard near Helen Avenue, the van collided with him, sending him to University Medical Center where he quickly succumbed to his injuries. The van driver was not suspected to be impaired and remained at the scene; and with reports that the teen was jaywalking when he was struck, it is unclear whether any charges will be filed in this tragic accident.
Wheelchair-Bound Pedestrian Struck and Killed by Truck
Another pedestrian fatality occurred earlier in the day on December 3. Just before 11:30 a.m., a 70-year-old pedestrian in a motorized wheelchair was crossing south Pecos, near Oguendo (in the southeast part of Las Vegas), outside the marked crosswalk area. While in the road, the pedestrian entered the path of a 2015 Toyota Tacoma, which struck him and sent him flying from his wheelchair onto the roadway.
Although the pedestrian was quickly transported to Sunrise Hospital & Medical Center, he sadly passed away due to his serious injuries. Police continue to investigate the collision to determine whether charges should be filed.
Woman Hits Four Juveniles in December 4 Crash
Four young people suffered from minor injuries after being struck by a woman in a southern Las Vegas parking lot on Friday, December 4. Police are still investigating the accident to determine whether the crash was accidental or deliberate. Unfortunately, this crash was the second one involving injuries to a juvenile—at 7:30 a.m., a young person was taken to the hospital with non-life-threatening injuries after being struck by a vehicle near Carnegie Street and Cozy Hill Circle.
At around 2:20 p.m., police received a report of "some sort of altercation or fight" at South Jack Leavitt Street and East LeBaron Avenue. A woman who was involved in the altercation then sped away, striking four children—including a 14-year-old girl—with her vehicle before leaving the area.
Motorcycle Crash Kills 1
At around 5:23 a.m. on December 5, a Ford Ranger struck a motorcyclist when the motorcyclist ran a red light at Rancho Drive and West Craig Road. The 33-year-old motorcyclist was transported to University Medical Center, where he was later pronounced dead. The Ford driver remained at the scene, did not appear to be impaired, and is unlikely to face any charges associated with the crash.
LMPD Patrol Vehicle Involved in Southwest Valley Crash
On December 7, at around 11:34 a.m., a patrol vehicle and a sedan collided on South Durango Drive at the I-215 Beltway. Both drivers were transported to University Medical Center for treatment of minor injuries. Little additional information has been released, and the crash is still under investigation.
DUI Crash Kills Passenger in Two-Vehicle Crash
Just before 2:00 a.m. on Friday, December 10, a 2021 Jeep Wrangler t-boned a 2021 Toyota Camry at the intersection of Gass Avenue and Las Vegas Boulevard. As the Camry was traveling through the intersection, heading north, the Jeep ran a red light, entered the intersection heading east, and struck the driver's side of the Toyota, killing its 50-year-old passenger. The Toyota driver fortunately suffered only moderate injuries.
The Jeep driver was arrested for DUI, and will likely face steep felony charges of DUI resulting in death.
Van Collides With Box Truck, Killing Driver
Another December 10 crash also sadly ended in death. At around noon, a 1998 Dodge Ram van was traveling west on West Tropicana Avenue, approaching Polaris Avenue, when it failed to slow down quickly enough to avoid colliding with the rear of a Freightliner box truck stopped in the right lane. Despite life-saving measures performed at the scene, the 40-year-old driver of the Dodge van was killed. The box truck driver showed no symptoms of intoxication and has cooperated with the crash investigation.
East Russell Road Crash Kills One Driver and Injures Another
On Wednesday afternoon, December 17, a crash occurred at the intersection of East Russell Road and North Stephanie Street. The two vehicles involved in the crash—a white Ford SUV and a Chevy pickup—sustained serious damage, with the Ford's 52-year-old driver pronounced dead at the scene and the Chevy's driver, age 29, transported to the hospital for treatment of serious injuries.
Las Vegas Police Officer Seriously Injured in Hit-and-Run
On December 22, a LMPD traffic officer was riding his motorcycle eastbound on Charleston Boulevard, near Rainbow Boulevard, when he was struck by a red sedan. The 22-year-old driver of the sedan then reportedly panicked and left the scene without checking on the officer's injuries or providing aid. The officer broke several bones in his left foot and leg, as well as his left collarbone.
The driver was quickly tracked down and arrested for failing to stop at the scene of an accident, failing to render aid, driving without a valid driver's license, operating a motor vehicle without a license, and failure to yield. Although she reported that she was returning to the scene—at her grandmother's urging—when she was arrested, her failure to stop at the scene and render aid effectively cancels out any later efforts to provide assistance. Leaving the scene of an accident is considered a serious crime under Nevada law, particularly when the driver accused of leaving the scene has never held a valid driver's license.
LMPD Officer Injured in December 19 Crash
Another LMPD officer was seriously injured on December 19 after colliding with a vehicle that had stalled in the traffic lane. However, details of this incident are scarce; though the LMPD released a statement indicating that the officer is "alert and aware," it did not disclose where the crash occurred, who else may have been injured, and whether the officer involved in the crash is expected to make a full recovery.
Driver Flees the Scene of Fatal December 20 Crash
Just five days before Christmas, at around 6:21 a.m., officers responded to reports that a driver fled the scene of a serious crash. When they arrived at Silverado Ranch Boulevard at Crisman Ridge Street, officers discovered a disabled 1998 Infiniti with a passenger near death. This passenger sadly passed away at the hospital, and police remain on the lookout for a green 2002 Chevy pickup truck.
According to reports, the pickup truck was turning left onto Silverado Ranch Boulevard when it entered the Infiniti's path and struck it. In addition to the Infiniti passenger, who suffered grievous injuries resulting in death, the Infiniti driver was also injured and transported to the hospital. However, instead of rendering aid or calling for help, the pickup driver at fault for the accident fled on foot and has not been apprehended. Witnesses describe the truck driver as a 25- to 30-year-old Hispanic man of average height and weight, wearing a brown jacket with blue jeans.
DUI Crash Kills Driver
One person was killed and another was hospitalized after a 30-year-old—now charged with DUI—failed to stop at a stop sign and struck a vehicle traveling through the intersection. This crash was reported at around 7:00 p.m. on December 21, and two vehicles became involved after the initial collision. The driver of the vehicle directly collided with passed away, while another driver involved in the accident was rushed to the hospital with injuries that are not life-threatening.
The at-fault driver has been preliminarily charged with DUI resulting in death and failure to stop at a stop sign. Other charges may follow after an investigation.
December 26 UTV Crash Leads to Emergency Amputation
One woman escaped a utility terrain vehicle (UTV) accident with her life—but without her arm. On the evening of December 26, a UTV was transporting three passengers through a parking lot when it rolled over, mangling one passenger's arm so much that it later required amputation. The 26-year-old UTV driver was arrested and charged with reckless driving resulting in substantial bodily harm.
20-Car Pile Up in Snowy Washoe Valley
It was a white Christmas in northern Nevada, with snow blanketing the region and accumulating to nearly a foot in some areas. Unfortunately for drivers traveling home from holiday gatherings, this snow created some majorly hazardous conditions. On December 27, at least three people were transported to the hospital after a whopping 20 vehicles were involved in an accident in northwestern Nevada. The extent of injuries suffered in the accident is unclear, as is the cause of the crash—though the high winds and treacherous road conditions were undoubtedly contributing factors.