It goes without saying, that the most important thing to consumers when buying a vehicle is safety. Unless you are conducting rigorous research on the automobiles you are considering, it can be difficult to tell if the car you are purchasing is truly safe when it comes to overall crash protection and crash prevention systems. So, what exactly is it that you can keep an eye out for when it comes to deciding which car to buy in 2018? In this article, we will discuss how you can determine which kinds of vehicles are the safest and most dangerous when it comes to your safety, and more specifically, which manufacturers and models are looking out for your best interest this year.
Smaller Isn't Safer
If you were to go out on a limb and speculate as to which types of cars are more dangerous, you would not be wrong in suspecting smaller vehicles. In fact, in one of the latest studies published by the Insurance Institute for Highway Safety, the seven most dangerous automobiles were all cataloged as small or mini cars. This is simply because when it comes to getting in an accident, there is much less space between the occupants and the road, not to mention other vehicles or the primary vehicle itself.
When it comes to safety, the IIHS has begun paying ample attention to the dangerous nature of these smaller vehicles, and have thus greatly emphasized the importance of passenger and driver safety, overall impact and rollover protection, and collision prevention technology to vehicle manufacturers. As the economy has continued to climb, American citizens have subsequently been on the road more often, which means that accidents are more likely. However, despite the fact that there are more people on the roads and a higher probability of accidents, manufacturers are continuously developing safer automotive technologies that further prevent and protect drivers and passengers from harm in the instance of a crash.
With that being said, let's take a look at the deadliest vehicles of 2018.
The Deadliest Vehicles of 2018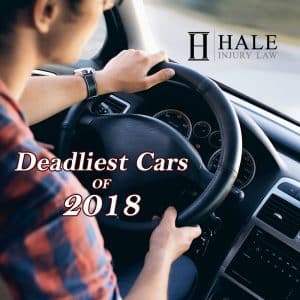 Even though it is still very early in the year to be able to tell which vehicles will be the most deadly, we can speculate from which ones were the most dangerous at the end of 2017 and are still the most deadly in the beginning of 2018.
The IIHS named seven vehicles as the most dangerous at the end of 2017. They were the Hyundai Accent, Kia Rio, Toyota Scion tC, Chevrolet Spark, Nissan Versa, Ford Fiesta, and the Kia Soul. The reason these seven cars were all classified as the most deadly vehicles is because of the soaring rates of driver fatalities. In fact, the first three mentioned — Hyundai Accent, Kia Rio and Toyota Scion — all share over 100 driver fatalities per one million registered vehicle years. This means for every one million vehicles registered, at least 100 drivers will suffer fatalities.
Now, it is safe to say that obviously the manufacturers are not responsible for each and every accident that takes place or every fatality that is suffered, however, it begs the question: "How can manufacturers create more preventative measures and safer vehicles that will protect their occupants from harm?"
This brings us to our next portion — the safest vehicles of 2018.
The Safest Vehicles of 2018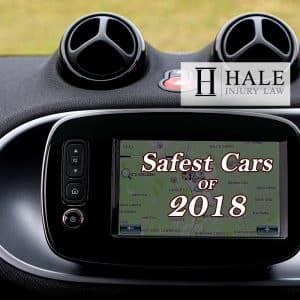 What is found to be quite interesting about the IIHS's safest vehicles of 2018, is that Hyundai — one of the primary producers from last years "Most Deadly" list and umbrella corporation that also includes Kia and Genesis —  is the lead manufacturer with six Top Safety Pick+ winners. This means that Hyundai executives and engineers are actively hitting the drawing board and learning from their mistakes, ultimately creating safer, more reliable products for drivers and passengers alike. The manufacturer that follows closely behind Hyundai's lead in second place, is none other than Subaru with four winning models. The top 10 safest vehicles of 2018 are as follows: Kia Forte, Kia Soul, Genesis G80, Genesis G90, Hyundai Santa Fe, Hyundai Santa Fe Sport, Subaru Outback, Subaru Legacy, Subaru WRX, and the Subaru Impreza.
Needless to say, it is quite impressive the the leader of last years most dangerous vehicles came back without batting an eyelash and cultivated new and improved products that have been deemed the safest of 2018. If anything, this should grant consumers peace of mind that the manufacturers providing people with these wonderful machines are truly looking to cultivate safe and effective vehicles that will not only get us from point A to point B, but prevent us from harm in the event of an accident.
Buy Safe and Drive Safely
At the end of the day, what it all comes down to is: buy smart and driver smarter. After reading this article, it isn't difficult to see that manufacturers are working hard on their end to make sure the vehicles they produce are not only advanced in terms of preventative technology, but also in terms of protecting the occupants in the event of a crash. So, since they are doing their part, you do your part as well and drive safely on the roads, consider other drivers, and consider your passengers when purchasing a vehicle in 2018.